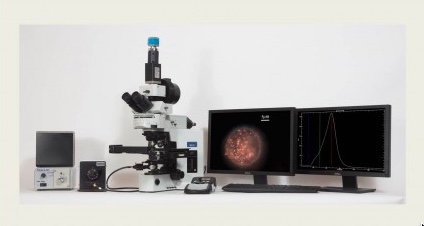 Overview
The CytoViva Hyperspectral Microscope Imaging system allows for spectral characterization and spectral mapping of nanoscale samples. Each pixel of a hyperspectral image provides the complete reflectance spectral response of that pixel's spatial area within the visible and near-infrared (VNIR) or short-wavelength infrared (SWIR) spectral range. This enables nondestructive spectral measurements of nanoscale elements in the full spatial context of the sample image. For example, at 100x magnification, a hyperspectral image may contain as many as 700,000 pixels, each as small as 128nm each. The hyperspectral imaging technology supports a wide range of other types of samples, from micro to macro in scale, and applications.
Key Features
Easy to use

High spectral resolution

Can be used with nanoscale samples

Certain biological materials, such as bacteria, can be optically observed, spectrally characterized, and mapped in tissue

Can be used to spectrally unmix stains, such as H and E or Alcian Blue PAS

No special fluorescent markers required

.
Recharge Rate
$33/hour for UC Davis users, $43/hour for non-UC Davis users